Wednesday, March 4, 2020
Bill Graham Auditorium
Join us for our upcoming Community Day of Service event! More than 100 Providers come together to offer services, connections, and care to people experiencing homelessness or at risk of experiencing homelessness. You can register to volunteer, sign up as a provider, and learn more HERE
Tuesday, March 31, 2020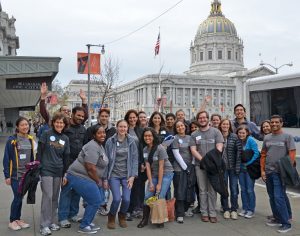 Project Homeless Connect has made the strategic decision that this year, in lieu of having a fundraising gala in the spring as we commonly host this time of year to raise funds for our direct services, we will instead be hosting a new event in the form of a Community Outreach Day to directly engage our neighbors experiencing homelessness with services and resources.
The Community Outreach Day will be held Tuesday, March 31st, and will be an effort made possible with the support of hundreds of volunteers  to raise awareness about available services, provide basic needs, and make connections for people experiencing homelessness. Learn more
HERE
!
We are proud to share with you the impact results from our last Fiscal Year. We want to thank all of the donors, volunteers, neighbors, and Participants that come together every year to support our programs and build Compassion.