Our next Community Day of Service event is in March 2018!
Community Day of Service Volunteer Signup
Project Homeless Connect excels in connecting the most vulnerable San Franciscans to vital resources throughout the city. At our one-stop shop events and also through the Every Day Connect program and mobile CareVan, we link participants to difficult-to-obtain services including medical, dental, vision care, and employment assistance. By mobilizing city and community agencies, as well as thousands of volunteers, we are able to ensure that our participants receive holistic care in a dignified setting.​
Recent Blog Posts
Sarah was referred to Project Homeless Connect by the San Francisco Office of the Treasurer after she initially reached out to them for support with a … Read More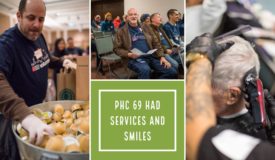 Highlights 37 Stylists joined us for the first time from San Francisco Institute of Esthetics and Cosmetology  One of our volunteers was also a … Read More