We are proud to share with you the impact results from our last Fiscal Year. We want to thank all of the donors, volunteers, neighbors, and Participants that come together every year to support our programs and build Compassion.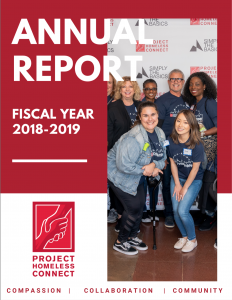 Wednesday, March 4, 2020
Bill Graham Auditorium
Join us for our upcoming Community Day of Service event! More than 100 Providers come together to offer services, connections, and care to people experiencing homelessness or at risk of experiencing homelessness. You can register to volunteer, sign up as a provider, and learn more HERE
All Donations will be matched up to $2,500!
Funds raised in this campaign will specifically help us to cover the costs of Outreach so that every person in need in San Francisco is aware of the upcoming PHC events and opportunities for services! Learn more about this campaign HERE.