Project Homeless Connect restores dignity and brings comfort to those experiencing homelessness through distributing material resources. Help us by donating a pair of work boots, by hosting a drive in your community, or give the gift of new socks — there are many ways to get involved!
Join our generous community of supporters!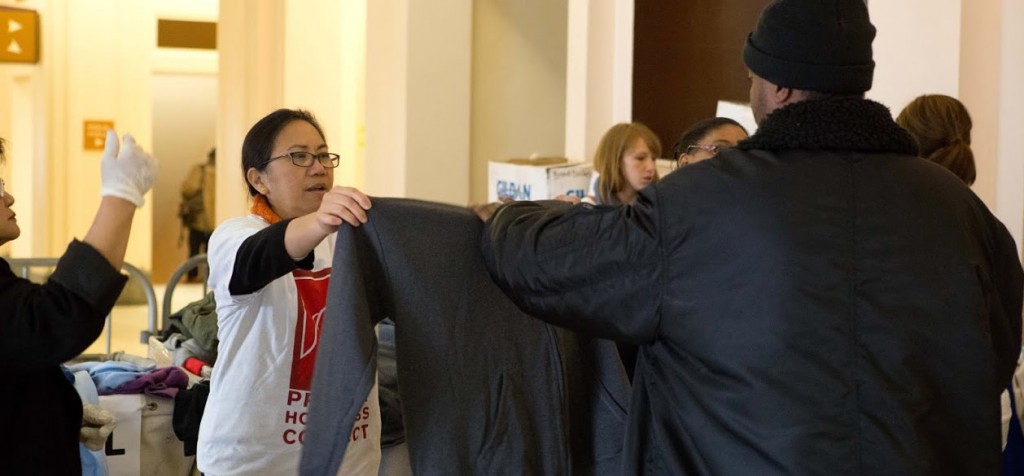 Our Twitter page is constantly up-to-date with participants' pressing needs! Check back frequently for our ongoing requests.
No result could be fetched.
Socks
   Socks are a key component of both warmth and foot health. We collect new, moisture-wicking white crew socks to include in our hygiene kits.
   Socks that are colored, used, or children's sizes
Sleeping Bags
   Sleeping bags turn a cold night a little warmer. We need new or gently used and clean, fully-functioning, sleeping bags.
   Children's sleeping bags
Hygiene Items
  We accept new, unused and unopened, travels size, toiletry items. Body wash, shampoo, conditioner, toothpaste and toothbrush, body lotion, sunblock, deodorant, and Chapstick are all popular items.
  Items that are opened, used, or over scented; mouthwash
Backpacks
  Useful for securing belongings as well as trips to school, backpacks are incredibly important at all ages. We have a constant need for adult or camping-sized, new or gently used (fully-functioning) backpacks.
  Children's backpacks, anything in need or repair
Electronics
  When access to a power source is hard to come by, a portable phone chargers makes life easier. We accept phone chargers, laptops, tablets, and phones. All must be new or gently used and fully functionally.
  Large or heavy electronics,  or items that are in need of repair or missing components.
Household
  Help us welcome our participant to their new home with the gift of essential household items. We accept new or gently used electric skillets, mini refrigerators, toasters, microwaves, plates, eating utensils, small pans and more.
  Items that are in need of repair
Clothing
Only accepted on an as-needed basis. When needed, we accept adult sizes Large and up. Follow us on social media for current clothing needs or contact us for more information.
Furniture
We don't have the ability to take items like sofas, dining room tables, mattresses, bedroom sets, couches, large chairs, or other large furniture items.
Large Appliances
We cannot accept items like stoves and large refrigerators, but we occasionally need small dorm-size refrigerators. Please contact us for more information.
  Occasionally we will have a request for a large item or we will take clothing during our annual Hoodies for the Homeless drive. If you have questions or if you are unsure if we can take your donation, please contact our Volunteer Manager.
Hosting a drive in your community is a great way to foster team building and to serve your community.  Project Homeless Connect is always looking for opportunities to collaborate; please join us. Drives commonly collect the following:
Hoodies and warm outerwear
Hygiene items
Socks
Sleeping bags
Backpacks
We would love to hear your ideas, let's work together to bring valuable resources to our neighbors in need.
To schedule a donation drop off time, please contact our Operations Manager, or call (415) 503-2128.