Thank you for your interest in volunteering with Project Homeless Connect. Volunteers are the backbone of our programming and we look forward to offering you a meaningful and enjoyable volunteer experience. All of our volunteer opportunities are located within San Francisco. We hope you will join us!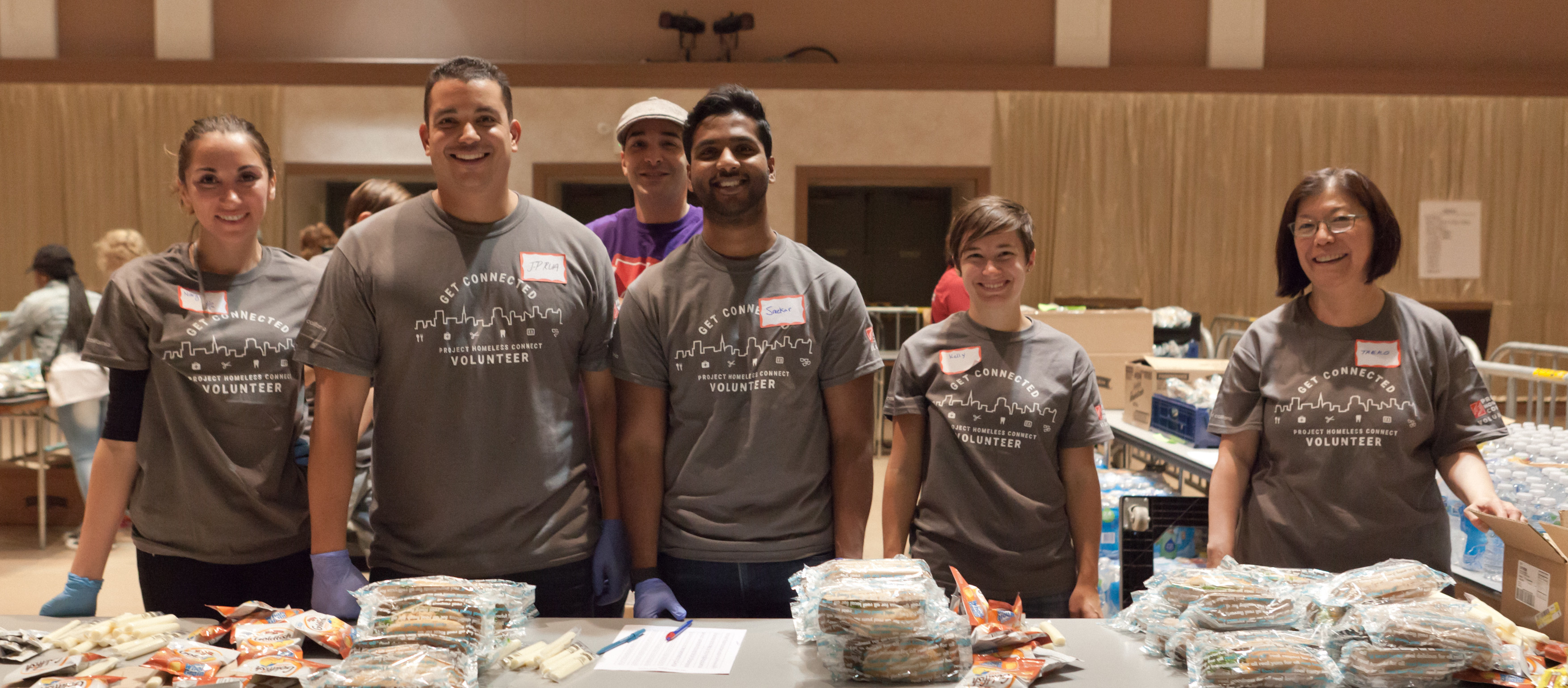 There are many opportunities for corporate and community-based volunteer groups at our large-scale service events.
Volunteering at Upcoming Events
Project Homeless Connect hosts five events annually. For a list of upcoming event dates, please visit our calendar. All volunteer shifts are posted on the Volunteer Portal six weeks prior to the event. If you do not see any volunteer shifts after creating a volunteer account on the portal, please check back periodically, or sign up for reminder email from PHC—we will let you know when volunteer registration opens.
Volunteer Positions: See a list of upcoming volunteer roles.
Volunteer Training:  Please view our general training video for an onsite view of volunteering with PHC and tips for the day!
Every Day Connect: Are you interested in assisting with our monthly Shelter Connect or Vision events? Volunteer positions include line and list management, and helping with forms. We also have opportunities for qualified medical professionals. For more information about all PHC volunteer opportunities, including for groups, individuals, in our office, and within Every Day Connect, contact our Volunteer Manager at volunteer@projecthomelessconnect.org.
Volunteering In the office
We often need data entry volunteers in our office.
Event Volunteer Opportunities
Volunteers in Bag Check are responsible for greeting participants as they enter the event venue and helping to provide a secure space to store their personal belongings. This service is vital at events so that we are able to keep the main arena clear of larger items.
Our Café is a mini-restaurant where participants sit and enjoy lunch or grab a to-go lunch on their way to other services.  Volunteers in the Café area host, wait on participants, prep food, and bus tables.  Be a part of creating this warm and welcoming environment at the event!
Check-In volunteers take participants through a brief set of questions, explain available services, and obtain signed authorization. This quick and critical survey of needs identifies the service areas that will best assist the individual that day. The Check-In service area is always in need of bilingual volunteers, especially those who speak Spanish or Cantonese. PLEASE NOTE:  Check-In requires an ALL-DAY commitment.
Check-Out is the final stop at PHC events. Check-Out volunteers work one-on-one with participants to ensure they have received the services they need.  Volunteers also ask for honest feedback from participants about what is working well at Project Homeless Connect, what may need improvement, and what additional services they would like to see. The Check-Out service area is always in need of bilingual volunteers, especially those who speak Spanish or Cantonese.
The onsite dental section at our events conducts screenings for participants in need of fillings and extractions before sending them for treatment. Volunteers are needed to help maintain an organized patient flow, to work directly with participants who need assistance with forms, and to escort participants to the off-site clinic once they have been screened. We have a special need for bilingual speakers in this area.
Come and help us breakdown the event! Duties include: breaking down and stacking tables and chairs, collecting signs, stacking barricades, cleaning up and sweeping, dismantling tents, and other tasks as assigned. The ability to lift and/or carry up to 35 lbs is helpful.
This role is crucial to the success of our event! The morning of the event volunteers are needed to assist with set-up. Duties include: arranging tables and chairs, hanging signs, placing barricades and cones, and other set-up tasks as assigned. The ability to lift and/or carry up to 35 lbs is helpful.
Before leaving the event, PHC participants receive a bag of groceries provided by the SF-Marin Food Bank. Volunteers are needed to help pass out groceries, to set up and lay food out on tables, to re-stock areas, and to break down boxes. At times, the distribution can be very fast-paced. PLEASE NOTE: This is a standing position, and some heavy lifting is involved.
If you are unsure of where you would like to volunteer, or you want to help us out where we need it most, please sign up here! Positions are assigned on event day by the volunteer coordinator.
HOUSING INFORMATION & SHELTER
This service area provides shelter reservations and information to find and obtain housing.  Housing counselors and volunteers are needed to support participants. You will greet, guide, and help participants in this area, or provide housing counseling. Appropriate training is provided on the morning of the event.
At the end of the day, each participant leaves with a hygiene kit. This includes a fresh pair of socks, a new toothbrush, toothpaste, and soap. The day BEFORE the event, we need volunteers to assist with the collation of these items in an assembly-line style. Volunteers place items into individual bags to be handed out in our Check-Out area at the event. This is a great opportunity for those that may not be available to volunteer on the day of the event.
San Francisco is rich in culture, diversity, and language. Interpreters at our event help participants communicate their needs to service providers in a number of areas, notably Check-In, Medical, and Check-Out. Interpreter volunteers make it possible for many of our non-English speaking participants to connect with services. Specific language needs include: American Sign Language, Cantonese, Mandarin, Russian, Spanish, Tagalog, and Vietnamese.
The medical area at Project Homeless Connect is a basic urgent care center where brief medical care is provided, but more importantly, participants are connected with primary care providers in clinics throughout the city. Participants are assigned degrees of urgency, then have their vital signs taken and are evaluated by doctors and nurse practitioners. Punctuality is essential for training purposes. On-site orientation will be provided.
Participant Escorts are the first point of contact for participants at the event.  This role is crucial in helping to engage participants, and to make them feel welcome. Volunteers will escort participants from Check-In to their first service area and help them to navigate the arena throughout the event. Volunteering as a Participant Escort is a great way to introduce yourself to our program and gain a broad understanding of the services available at our event.
You will work with participants to select a pair of reading glasses. At each event, we have many styles and strengths of glasses to choose from. A brief training will be provided the day of the event.
If you are looking to spend the morning in the sunshine, Street Outreach is the volunteer opportunity for you! Team members travel to different San Francisco neighborhoods and engage with potential participants. In groups of 2 or 3, you will encourage people to come to the Project Homeless Connect event to receive a variety of social services. Day-of outreach is one of the best, most efficient ways to get services to those who need them most.
The vision area of our events needs Optometrists, Ophthalmologists and Opticians to conduct screenings, take measurements for prescription glasses, and help participants find a pair of frames that is right for them. Are you an eye-care professional who would like to give back to a very appreciative community in need? Get in touch for more information on the vision opportunities available with PHC!
Volunteers in Volunteer Central will welcome and sign in volunteers the day of the event.  Duties include directing volunteers to the appropriate registration line, signing them in, handing out volunteer t-shirts,  and providing information about volunteer shifts.
Ongoing Volunteer Opportunities
EVERY DAY CONNECT VOLUNTEER
There are a great variety of ways to engage with the Every Day Connect component of our project. Whether managing sign-in for a Shelter Connect event, providing extra in-office support for our resource specialists, or answering our hotline, we greatly value your presence working with our participants every day.
Every month, Project Homeless Connect hosts an outreach walk through the Tenderloin to raise awareness about homeless services, distribute information about our programs, and engage with our neighbors experiencing homelessness. This is a great opportunity to connect directly with the individuals most in need of our services. Come and help us hand out socks and granola bars while passing along vital information about the services we offer!