Thank you for your interest in volunteering with Project Homeless Connect. Volunteers are the backbone of our programming and we look forward to offering a meaningful and enjoyable experience. All of our volunteer opportunities are located within San Francisco. We hope you will join us!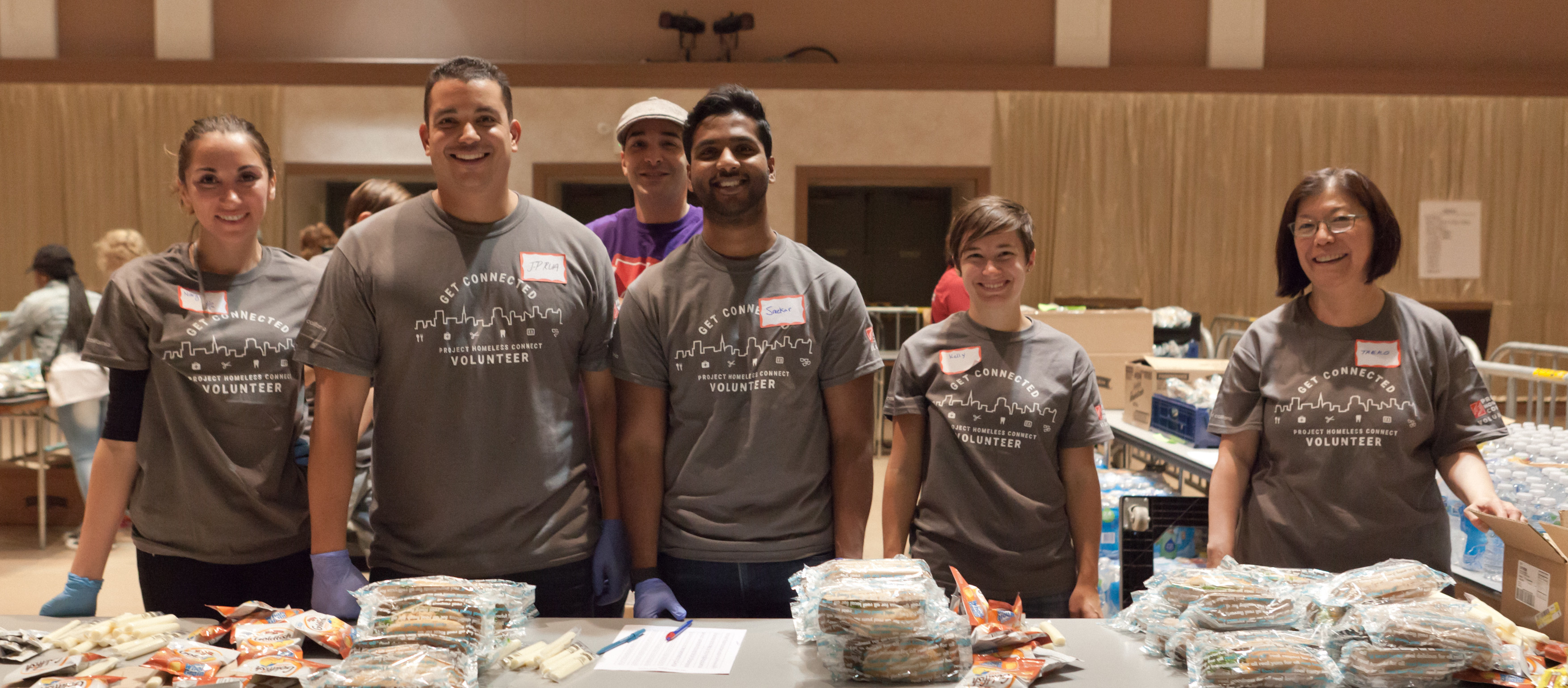 Types of Volunteer Opportunities
Volunteering at Upcoming Events
Project Homeless Connect hosts approximately three large-scale events annually. For a list of upcoming event dates, please visit our calendar. All volunteer shifts are posted on the Volunteer Portal six weeks prior to the event. If you do not see any volunteer shifts after creating a volunteer account on the portal, please check back periodically, or sign up to receive emails from PHC—we will let you know when volunteer registration opens. Please view our general training video for an onsite view of volunteering with PHC and tips for the day!
Other Events: We often have focused, mobile, or smaller-scale events that use volunteers, such as our monthly Shelter Connect or Vision events. Volunteer positions include line and list management, and helping with forms. To inquire, please email Volunteer@projecthomelessconnect.org with your name, contact info, availability, and types of roles you are interested in.
Outreach Walks
Project Homeless Connect hosts outreach walks through the Tenderloin to raise awareness about homeless services, distribute information about our programs, and engage with our neighbors experiencing homelessness. This is a great opportunity to connect directly with the individuals most in need of our services. Come and help us hand out socks and granola bars while passing along vital information about the services we offer!
Skilled Volunteering
Looking for a way to bring your unique talents to helping people experiencing homelessness? We are often looking for translators/interpreters, IT and web development, photography/videography, and more. We'd love to speak with you about partnering, please email Volunteer@projecthomelessconnect.org or call (415) 503-2123
Volunteering In Our Office
Some common roles in our office include data entry, organizing our in-kind donations, thanking donors, or helping the services team with calls to participants and checking our Resource Line. Please inquire to Volunteer@projecthomelessconnect.org
For more information about all PHC volunteer opportunities, including for groups, individuals, in our office, and within our daily services program, contact our Volunteer Manager at volunteer@projecthomelessconnect.org.
There are a variety of ways that volunteers help to make our events a success. You will be matched with an area or role that has the most need or is a fit for your skills.
Bag Check
Cafe
Check-In/Check Out
Event Setup/Breakdown
Food Bank
Housing Information & Shelter
Hygiene Kit Assembly
Participant Escort
Reading Glasses
Vision
Volunteer Central