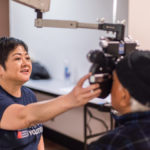 Vision Program
Through our Vision Program, we can provide one pair of prescription glasses annually at no cost during a monthly Optical Day. Reading glasses, adjustments, and repairs can also be provided. Participants must have a valid prescription when attending Optical Day; if a prescription is needed, they may be received at a Community Day of Service event or through a list of participating optometrists. Contact a Service Facilitator for more information. 
Denture Program
Our Denture Program is currently accepting applicants for full dentures. This program is made possible through partnerships with the University of the Pacific Dental School (UoP), the Native American Health Clinic, University of California San Francisco (UCSF), and the City Smiles partnership. ​Please note this program is run through a lottery system.
Dental Program
We provide basic dental treatment through the dental partnerships we have established throughout the city. Please speak to a Service Facilitator if you are interested in signing up for our Dental Program and you will be contacted with a dental appointment that matches your needs. Our Dental Program is made possible with our partnerships with University of California San Francisco (UCSF), Tom Waddell, Studio Dental and Bayview Clinic – Marin City Health & Wellness Center. ​Please note that there is currently a waiting list for our Dental Program.
Hearing
Project Homeless Connect and the Hearing and Speech Center of Northern California have partnered to provide Hearing healthcare services. Individuals are invited to get a hearing screening during our Community Day of Service events or at our monthly screenings in office. If a hearing loss is found, our program will provide a participant with the necessary hearing aid(s), batteries, support and follow up care. Health Insurance is not required.