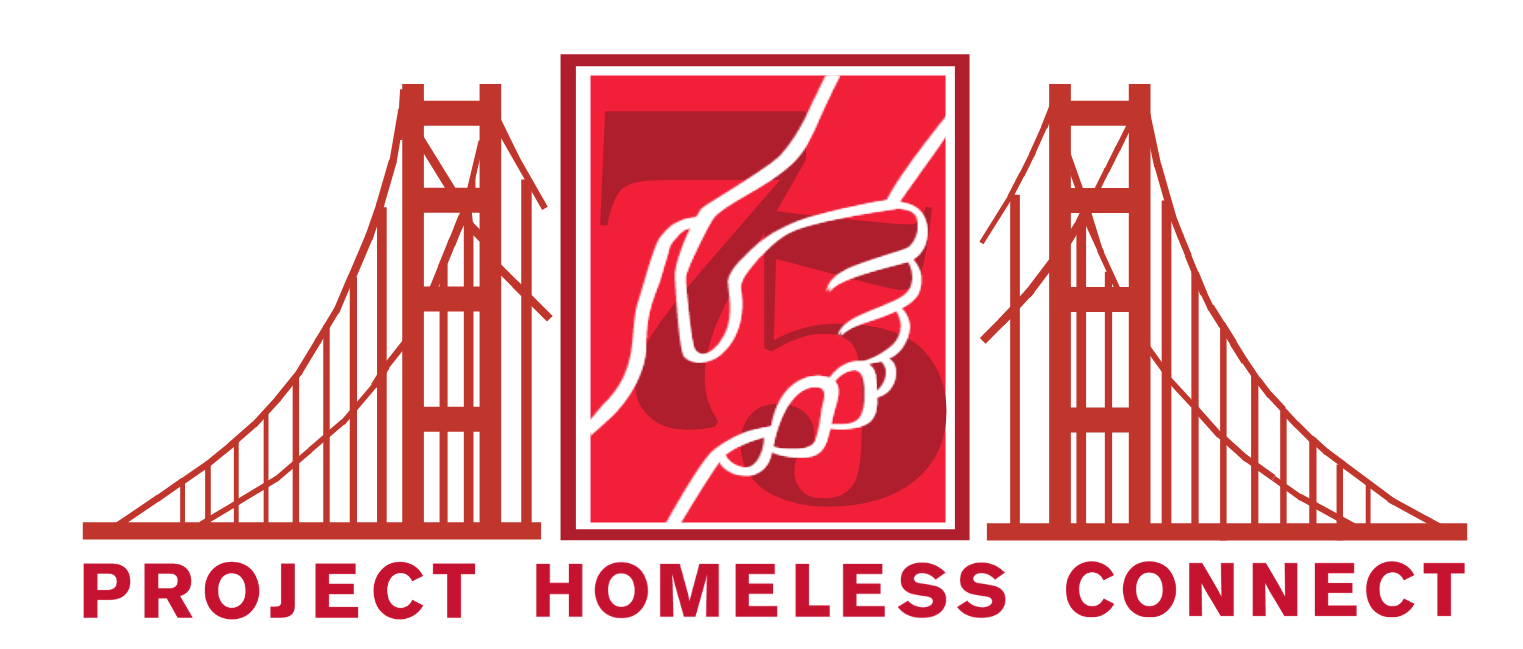 The PHC Community Day of Service is a one-stop shop service event where individuals experiencing homelessness can access over 100 critical resources such as medical, dental, and vision care, and free groceries. By mobilizing city and community agencies, as well as thousands of volunteers, we are able to ensure that our participants receive holistic care in a dignified setting.
Services are available from 10:00 AM – 3:00 PM
Wristbands are distributed beginning at 7:30 AM through the end of the event
Participants must have a wristband to enter the Bill Graham Civic Auditorium and access services
Interested in providing a service? Please contact our Senior Logistics Coordinator!
Please note that what makes our event so special is that we provide services on site. You must directly offer a service, rather than information or referrals to another date/location.
If you are interested in contributing to PHC 75, please support with a donation to ensure we can provide services to  more than 1,500 people in a single day.
Acupuncture
Addiction Services
Adult Probation
Banking Services
Books & Library Cards
CAAP/GA/PAES/CalFresh
Dental**
Disability Services
DMV ID**
Employment Services
Family Services
Flu Shots
Foot Care
Groceries
Haircuts
Hearing Tests
Hepatitis A Vaccines
HIV/STI/Hepatitis C Testing
Homeward Bound
Housing & Shelter Info
Legal
Lunch
Massage
Medical
Mental Health Services
Needle Exchange
Phone Calls & Voicemail
Photo Portraits
Prescription Glasses**
Reading Glasses
Senior Services
Showers**
SSI/SSDI and Medi-Cal
Veteran Services
Vision Screenings**
Wheelchair/Walker Repair
Women's & DV Services
Youth Services (up to 24)
*All services are subject to change
**These services reach capacity and are not guaranteed. If you are in need of these services, please arrive early. Services are given based on availability and need.
Volunteer Tips:
What to wear: Most volunteer positions involve standing and/or walking, so be sure to dress comfortably. All new volunteers will be given a volunteer t-shirt when you check in at Volunteer Central.

What to bring: Please bring a smile, a water bottle, and an open mind. As our volunteer needs change through the day you might be reassigned. PHC provides a meal for all volunteers at the end of your shift! Donations for shirts and meals are greatly appreciated. 
What NOT to bring: Please leave all valuables at home. We DO NOT have a coat check or secure place for you to leave items. If you have a fanny-pack, now might be the perfect time to break it out!   
Volunteer Check-In: The volunteer entrance is located on Grove Street between Polk & Larkin (99 Grove) and will be clearly marked; please then follow signs and staff direction to the Volunteer Check In area. The volunteer entrance opens at 7:00 AM.
Transportation and Parking: The Muni underground, BART, and many above ground Muni busses/trains come within a few blocks of the Bill Graham Civic Auditorium. We DO NOT have parking reserved for volunteers or providers. We highly recommend taking public transit if possible. Street parking is very limited. The closest parking garage is under Civic Center Plaza. The entrance is on McAllister between Polk & Larkin.