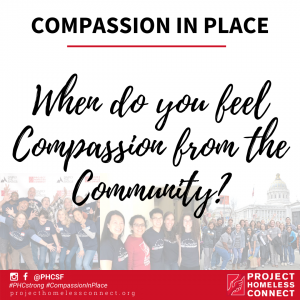 As an active way to show our compassion for the community and care for one another's health, the world is practicing "Social Isolation" by remaining physically at home. We see the many ways you are all getting creative to remain connected to one another! You have all inspired us…
PHC has launched a Virtual "Compassion In Place" Project to connect all of us virtually in conversations about what it means to feel and to show compassion in the community while practicing social distancing – we hope this helps to bring us all together at a time when we need it most – we are all in this together!
Below you will find point-by-point instructions on how you can submit a video and participate in our local community action initiative!
How to Participate…
Video submissions should be shared online, and if you would like to be included in our composed video in the end, please submit your video to us via the Google Form.
Reflect:
Take a moment to reflect on what "community" and "compassion" means to YOU. What comes to mind? How do these interactions make you feel? When you are being treated compassionately, what does that look like? When you are trying to treat someone with compassion, how do you do so?
Video Parameters:
Use personal recording device (No need for professional camera! Phone submissions are welcome)
Find solid background

Find quiet space/area with minimal background noise

Extend recording device approximately 2 – 3ft from face ("selfie style" welcome!)

Hold camera in horizontal position (landscape)
Group submissions are welcome!
Feel free to do the video with a pet, a loved one, a family member, or a favorite item you hold for comfort in your home!
All languages welcome, including sign language! 
Record Your Video!
Videos should begin by stating (1) your name, (2) the city where you live, and (3) restating the question followed by your personal answer "I feel compassion from the community when…"
(ex. "My name is____, I live in _______, and I feel compassion from the community when…")
Feel free to use this included sign (linked to site as pdf.) to hold while recording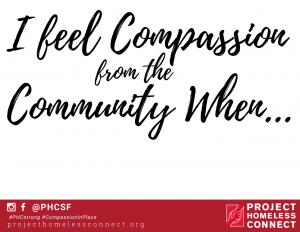 (See sample video below!)
Share + Submit!
You can share your video anytime on Facebook or Instagram using the hashtag #CompassionInPlace
Please also submit your videos to PHC! Upload your video to Google Form, following the link: https://forms.gle/WaVYBYcrhnbsoxXk6
We will be putting together all of the videos we receive to share as one!
Please be mindful and considerate while recording Maximum file size is 1GB, If you have any difficulties please email info@projecthomelessconnect.org
Engage
Join us as we re-share all of the videos submitted by our participants, neighbors, volunteers, staff, and YOU!
Our goal is to engage with one another virtually, and remember that even when the world seems bleak and when we start to feel more alone, there is compassion is all around us!
Reminder to please use the Hashtag #PHCstrong #CompassionInPlace and don't forget to tag us @PHCSF !
For questions, email: info@projecthomelessconnect.org
To share this campaign with family and friends, share this flyer: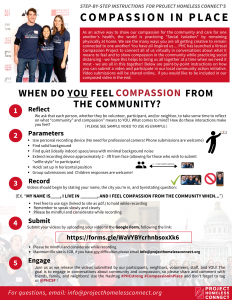 (Download Flyer HERE).