By: Leah Laxamana, PHC Volunteer
The doors to the Bill Graham Civic Auditorium had just opened and people started filing in. It was 10:03 a.m. and I was assigned at the bag check-in, a volunteer role I had never done before. The first person I helped was Alice, an older Asian woman who wasn't more than 4' 11" tall and had a black suitcase more than half her size that was bursting at the seams. Things were off to a rough start when she started raising her voice, upset over being asked to leave her belongings. A slow panic rose inside of me and I wondered whether the next couple of hours were going to be like this. Then it hit me — for Alice and others who came to the event — most of them had their life's possessions on their backs and there I was, a complete stranger, asking they leave them all with me.
Every quarter, Project Homeless Connect holds a community day of service in San Francisco and what usually is a concert venue is transformed into a one-stop shop for people experiencing homelessness or hardships to access basic services and resources. Anybody can get DMV, legal, vision and dental services, housing resources, and even haircuts all in one place. Guests also get a bag of groceries on their way out. Having helped with this event for five years, I realized how far I've come from feeling helpless and not knowing how to relate with unhoused neighbors to being able to interact with them and learning to accept that often, the most I could do is to treat them with the same dignity as I would anyone else. For some, being a friendly face and saying their names are just as important as the resources they receive, sometimes even more.
Making an effort to get close to people I wouldn't normally have contact with has constantly challenged my assumptions and capacity for empathy, but because of it, I feel more connected to the full complexity and immensity of life. One time, I ran into a volunteer wearing the deep purple shirt reserved for leads. He looked familiar and turned out to be Duade, one of the gentlemen I met a few months prior at San Quentin State Prison when I attended a presentation from inmates part of a prison education program. He was one of the presenters and was released a few weeks before the service day and he was already volunteering.
Once I allayed Alice's concerns about her suitcase, the subsequent guest interactions went smoothly. Most even said thank you for providing a service to watch their things: large backpacks, some bikes, a grocery cart with empty cans in it, and a 100-lb. duffel bag, among others. While the guests I helped may not have been completely relieved from the burdens of their life's circumstances, for an hour or two I got to help make their load a little lighter. A lot of people think that the only way to make a difference is to do grandiose acts, but if the last five years have taught me anything, simply showing up and seeing people beyond their challenges go a long way.
Is there a need in your community that has called your attention? Are there steps you can take to learn more?
*Names of guests have been changed.
(Original Blog Post can be found HERE)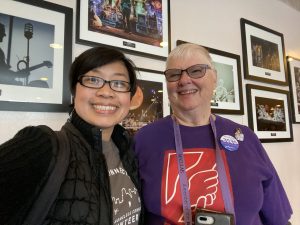 ​