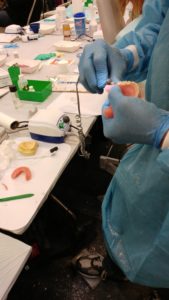 by Solange Bonilla-Leahy, Director of Services at Project Homeless Connect
Dignity and Dentures
While Miriam filled out an application for our denture program, she was asked, "How will dentures make a difference in your life?" She couldn't help but respond emotionally, "Without teeth, I can't eat well; I can't be social, and I can't smile."
Through participants, we learn that losing teeth can significantly affect multiple aspects of people's life, including health and self-esteem. Daily activities such as chewing, speaking and smiling become difficult. These issues can combine to frustrate and discourage a person from taking proactive steps in their life, from avoiding job interviews to withdrawing from their supporting community.
So, it was with great pleasure when, on April 23rd, PHC in partnership with City Smiles Connect, brought seven participants down to the CDA Cares event in San Mateo to obtain complete dentures. Our participants came from a variety of backgrounds and circumstances, but they all shared one commonality – they lacked access to adequate dental care.
A Goal to Smile Again
When individuals begin the process of obtaining dentures, they often tell us that one of the main goals they have is to smile again. Along with that smile comes renewed self-esteem and self-worth. Once an individual gets their confidence back and they feel better about themselves, they're more likely to start tackling other goals. Nothing beats seeing an individual's face light up after they receive their dentures and say joyfully:
"I look amazing and feel amazing!"
The individuals that come to Project Homeless Connect frequently face many barriers in their lives that prevent them from obtaining the care they need to move forward. At Project Homeless Connect, we do our best to remove those barriers and help individuals experiencing economic hardship and homelessness to succeed. Sometimes something as simple as hygiene products, haircut, socks or even just a cup of coffee, do so much to restore a little of the dignity that everyone deserves and boost the confidence to engage the world. Most people might not think of their teeth often, but as our participants left that day, they were all smiles.
Project Homeless Connect expresses gratitude to the CDA Cares San Mateo, the San Francisco Dental Association, City Smiles Connect and all the volunteer dentists, health professionals, and community volunteers.