On August 30th Project Homeless Connect hosted Provider Connect: Homelessness and the LGBTQ Community. A panel of local experts shared insight and resources with a room of providers, advocates and volunteers. The panelists gave general considerations for working with LGBTQ individuals, and discussed the unique impact of homelessness on the transgender community, LGBTQ seniors, and youth.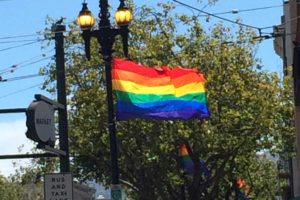 Carsen Nepomuceno, Program Specialist at Asian Pacific Islander Wellness Center, spoke about the challenges that transgender individuals face in finding inclusive services. For example, programs offered through a church can be intimidating or feel unwelcoming. Carsen shared that San Francisco, thankfully, is special because of unique, tailored programs. Carsen said that "clients feel safer that there are more laws on the books to protect them" than exist in other cities.
Gustavo Bunuelos, Youth Advocate at LYRIC, says that LGBTQ youth come to San Francisco to find acceptance and community. Some have been forced out of their homes, and others are escaping dangerous situations. The San Francisco shelter system often cannot provide the warm welcome and stability that these youth deserve. Finding safe places for these LGBTQ young people is paramount.
Abby Krumbein, Housing Coordinator at Openhouse, shared her experience working with LGBTQ seniors. The unique needs of this population include: physical limitations, living alone, and not having children to take care of them. Many LGBTQ seniors have lived through decades of social change; unfortunately, many have also been victims of discrimination. These negative experiences make some LGBTQ seniors less likely to seek out services.
Abby spoke of San Francisco as a "beacon for LGBTQ people." Here are some larger takeaways that can help us create a welcoming city:
* Listen with empathy
* Cater services for different needs
* Create an environment where service providers are tolerant, aware and understanding
Thank you to everyone who attended and made this event a success. Mark your calendar: our next Provider Connect will be held on November 29th. We will send more information as the date approaches.