Guest post by Lauren Hodsdon
Lauren is a Masters' candidate in the Public Health Program at Boston University. She recently completed an internship with Project Homeless Connect.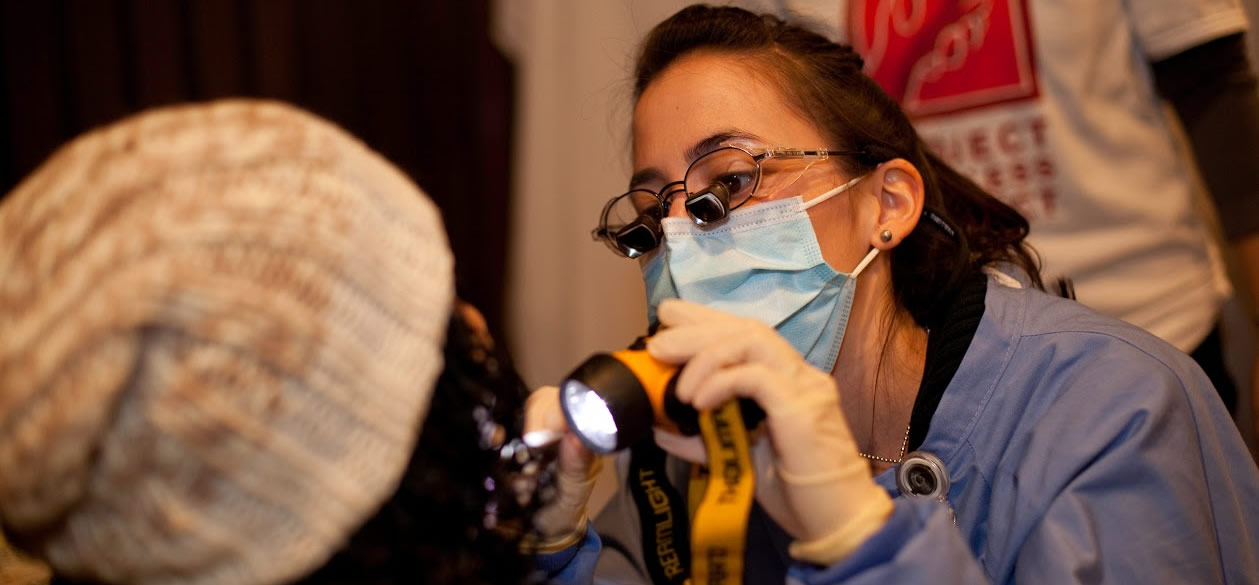 Studies show that having poor teeth can lead to poor chances of finding a job, and we also know that 41% of extremely low-income patients do not have proper access to dental care. At Project Homeless Connect, we believe that oral health is an essential ingredient in ending homelessness. According to a 2013 survey of 9,000 homeless veterans, the people who received dental care were more likely to be working, financially stable, and living in permanent housing. Why is that the case?
Unsolved dental issues often cause chronic pain. As anyone who has ever experienced it knows, chronic pain is directly linked to depression. People with depression often have trouble eating, focusing on their jobs, or performing daily tasks, and their bodies are more vulnerable to illness. Better access to dental care (which alleviates chronic pain) is thus a key way to help people experiencing homelessness avoid depression and begin to take steps toward stability.
Why don't individuals get the dental care they need? Some of the reasons include:
No access to doctors or not sure where to go
Inadequate dental care coverage
Prioritizing other needs, like earning an income or finding safe shelter
To respond to this urgent need for better dental care, PHC has created several innovative dental programs that make a real difference in San Francisco, every day:
Health Connect: Every month, PHC partners with Studio Dental during our Health Connect event to create a pop-up event where pre-screened participants can get dental work,
Tom Waddell Partnership: Each week, PHC participants receive dental care through the Tom Waddell Urban Health Clinic, run by the Department of Public Health.
UCSF Partnership: Each month, PHC participants who do not have dental coverage are able to receive dental care at UCSF.
PHC Service Events: At each of our large-scale service events, PHC connects approximately 72 individuals to dental care through a partnership with University of the Pacific and the Department of Public Health dental clinics. PHC hosts 5 large-scale service events annually. Getting access to dental care is a crucial step towards better outcomes for people experiencing homelessness. By recognizing this reality and working to remedy it, PHC is leading the way towards a healthy and housed San Francisco.
Sources
http://www.nbcnews.com/feature/in-plain-sight/bad-teeth-broken-dreams-lack-dental-care-keeps-many-out-v18906511
http://www.ncbi.nlm.nih.gov/pmc/articles/PMC3969121/
http://www.sciencedirect.com.ezproxy.bu.edu/science/article/pii/S0022399911000067
http://www.depressiontoolkit.org/aboutyourdiagnosis/depression.asp
http://www.tupeloendo.com/pdfs/Selected-Literature/Depression-and-dental-health.pdf