On Thursday, July 23rd, Project Homeless Connect hosted our second Provider Connect event of 2015, focusing on care after incarceration.
California faces a crisis. As our prison systems struggles with overcrowding and challenges with compliance on managing this issue, care of our imprisoned citizens is grotesquely poor. Once individuals get out of the system, they are faced with many challenges and severe bias in finding housing, employment and medical care. A panel of industry veterans and an audience of frontline care providers, engaged community members, and advocates gathered to share and discuss what we can do to work on this very pressing issue.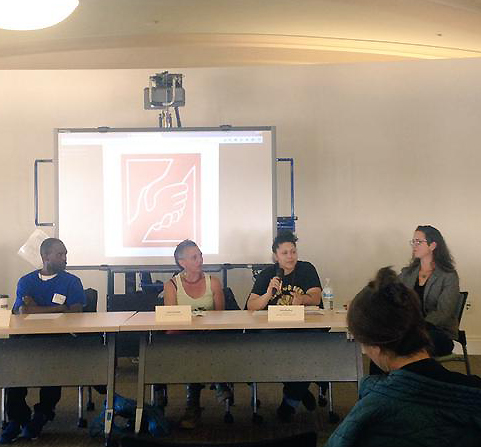 The evening began with a discussion where our panel identified key issues for people exiting prison:
Access to stable housing is often a problem and can contribute to whether or not people violate their parole and end up back in jail.
Returning to public housing or living with someone in public housing is not an option if you have a felony on your
There is a cycle of incarceration that is common: someone is accepted to a treatment program after leaving prison and is trying to stay off drugs.They end up in a residential facility where drugs are present and daily stresses and pressure are inevitable.They may end up using drugs, thus violating their parole and landing them back in prison.
There is a lack of affordable housing in San Francisco and in neighboring cities, forcing people to move to far-out suburbs to find housing, away from family and support services.
One of our panelists brought up the problem that many parolees have "basically nowhere" to go and expressed his frustration, saying, "I just don't know where to start with change."
While the discussion brought up the many challenges we are facing as a community, the panel and the audience freely shared their connections and resources. The discussion ranged from advocating for benefits for veterans to opinion and insight on current policy like the San Francisco Fair Chance Ordinance (the "ban the box" law) and a unanimous belief that we can and should do better. We also gathered this list of wisdom, tools, and resources from panelists and attendees of the event. Please feel free to use this when engaging with your participants or share it with anyone who may benefit.
It was an impactful evening, with much of the audience and all three of the panelists staying until the event ended at 8 PM
Thank you to our panelists for making the evening a success.
Alexandra Berliner, Organizer, All of Us or None and Legal Services for Prisoners with Children
Ronald Sanders, Community Health Worker, Transitions Clinic
Laura Guzman, Director of Homeless Services, Mission Neighborhood Resource Center
Thank you to Bi-Rite Market for their continued support of Provider Connect events. Our next Provider Connect event will be Wednesday October 21st, so mark your calendars and keep an eye out for topic and panelists.
We are currently conducting a survey on our Provider Connect series, please take a moment to help us improve our programming.