A big thank-you to everyone who attended the Town Hall to End Homelessness on March 11. We packed the Nourse Theater with over 600 curious and opinionated Bay Area residents, looking to join the conversation about change. The evening kicked off with a word of context from Kara Zordel, PHC's Executive Director, about the need for collaboration and coordination in homeless services.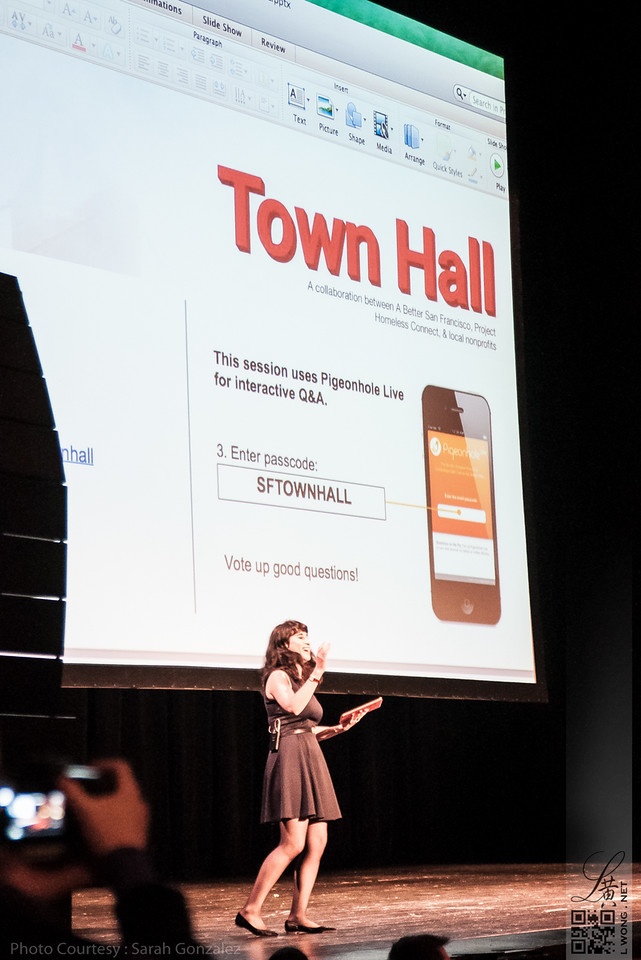 The first half of the Town Hall showcased five ideas that could make a major impact on homelessness in San Francisco:
The recently-opened Navigation Center in the Mission (Sam Dodge, Mayor's Office of HOPE)
Rapid rehousing and a community-wide challenge to address homelessness (Emily Nolan, Rapid Results Institute)
Mobile shower buses (Doniece Sandoval, Lava Mae)
Crowdsourced funding for individuals (Rose Broome, HandUp)
Supportive tent villages (Arondo Washington Cox, Camp Unity)
The audience used an online Q&A platform, moderated by our own Emily Cohen, to ask their most pressing questions. The platform, called Pigeonhole, allowed members of the audience to submit questions through their smartphones, and vote on the questions they wanted to see answered. To make sure everyone in the room had a voice, questions were also accepted on index cards, and manually entered into Pigeonhole.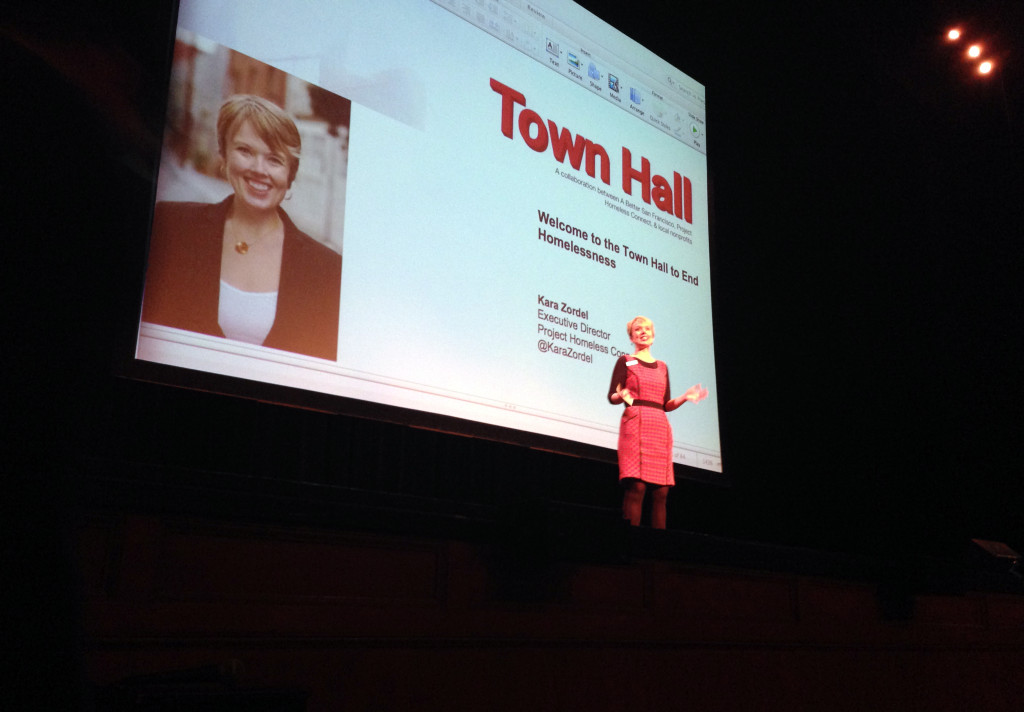 A panel discussion followed the presentations; another big thanks to our thought-provoking panelists: Supervisors Jane Kim & Mark Farrell, Jeff Kositsky, Sherilyn Adams, and Joe Wilson. This diverse group of local leadership sat down with journalist Gary Kamiya to discuss the landscape of concerns and solutions San Francisco. Joe voiced concern that funding anti-poverty programs is not a priority for national leadership. Later, Supervisor Kim suggested that San Francisco could raise money to purchase any available units, and create a housing stock for use by the City's least affluent.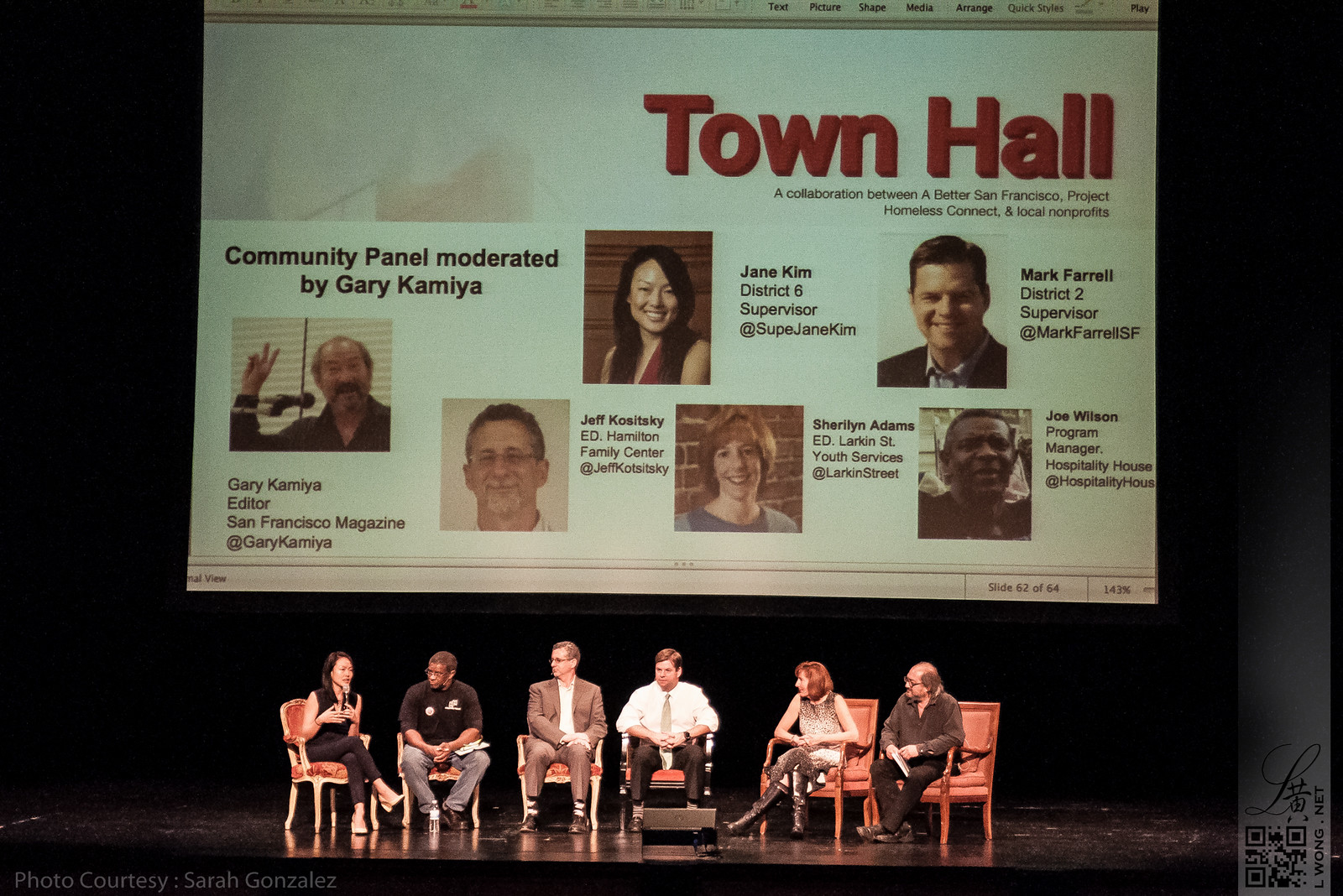 Feeling inspired? The sign-up form to get involved with some of these projects is still online. Our event co-host A Better SF will get in touch with you about next steps.
PHC will continue this conversation through a series of quarterly Provider Connect events. These more intimate gatherings will offer a chance for homeless services providers to learn from a speaker, and share their own experiences in the field. The next Provider Connect will be Thursday, April 23; see you then!
Town Hall Speaking List
Presentations:
Rose Broome, HandUp
Sam Dodge, Mayor's Office of HOPE
Arondo Washington Cox, Camp Unity
Emily Nolan, Rapid Results Institute
Doniece Sandoval, Lava Mae
Panel:
Supervisor Jane Kim
Supervisor Mark Farrell
Sherilyn Adams, Larkin Street Youth Services
Jeff Kositsky, Hamilton Family Center
Joe Wilson, Hospitality House
Moderator: Gary Kamiya, author, 'Cool Gray City of Love' (Panel Moderator)