Happy Veterans Day!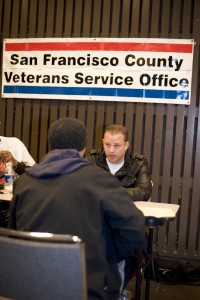 On this day, we would like to thank all eras of men and women who have donned our nation's uniforms for their service and sacrifice.
Today as a nation, we recognize our veterans, for their ongoing call to duty, as well as their dedication to, and responsibility for our country and its people.  It is this dedication that allows us many of the liberties and freedoms we so deeply value as a country.
While a majority of our veterans do go on after service to greater success, many veterans are still in dire need of the basic life essentials. Homelessness, lack of opportunity, and the absence of support deeply impact our veterans.
Current statistics indicate that between 20% and 33% of people experiencing homelessness are veterans. In the City and County of San Francisco, where the homeless population is approximately 7,350, there are roughly 1,260 veterans experiencing homelessness.
Fortunately, this trend is being reversed through a dedication of time, energy, and resources. According to a recent Department of Housing and Urban Development (HUD) report, veterans' homelessness has declined nationally by 33% since 2010, but there is so much more that needs to be done. Here in San Francisco we are engaged in The 25 Cities Initiative, a national drive implemented by the Veteran's Administration and HUD to focus housing resources toward our community's most vulnerable homeless veterans.
The 25 Cities Initiative is a great continuation of commitment to the welfare of veterans. This Veterans Day, as a community, we can reflect momentarily on the benefits we have received as a society from their faithful service, and make it a priority to support efforts to improve services and opportunities for those who have served.
Semper Fidelis,
Victor L. Nelson, MSW
Project Homeless Connect