Dear PHC Family,
Three resources — dentures, glasses and a phone — changed Jerry's life.
When we met Jerry he was living in the park and was disconnected from services and society. Through outreach, we engaged Jerry and found out that he really did not want to be in the park but could not see a way out for himself. Despite only being in his twenties, Jerry was missing most of his teeth, which hindered his confidence, self advocacy, and employment prospects. After months of engagement, we convinced Jerry to enroll in our denture program and, through a partnership with a private dentist, were able to get him extensive dental care and dentures.
Throughout the denture process, it became clear that missing teeth was not the only barrier Jerry faced. Using our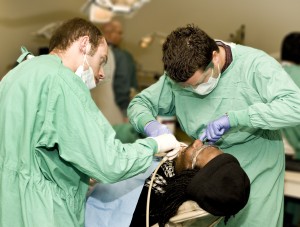 resources and connections, we also got Jerry prescription glasses and a Lifeline cell phone. These three resources changed Jerry's life. He now has confidence in his step and has used this confidence to catapult himself into stability. One year after Every Day Connect engaged Jerry, he has teeth, glasses, a phone and, most importantly, a stable job and an apartment. Through the generous support of the PHC community, we were able to give Jerry the tools he needed to make a real and lasting change in his life.
Last year Project Homeless Connect launched our newest project, Every Day Connect, to connect people with the resource they need on a daily basis. As the Director of Programs, I have the privilege of managing Every Day Connect and serving the people in our community with the greatest needs. It has been a year of tremendous growth for our program and 2014 will be filled with even greater resources for our neighbors experiencing homelessness.
Please join us in bringing resources to homeless and at-risk San Franciscans by taking the Project Homeless Connect pledge to donate $10 a month to PHC. Visit our website to take the pledge. 100% of your donation will go directly to resources for people like Jerry.
Thank you very much for your support!

Emily Cohen
Director of Programs
Every Day Connect