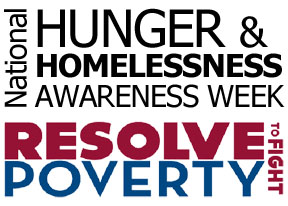 As the Thanksgiving holiday approaches, we take time to think about what we are thankful for and to celebrate our tremendous blessings with family and friends. So often our celebrations center around food, but the staff of Project Homeless Connect will also be honoring National Hunger and Homelessness Awareness Week and we encourage you to do the same.  What is National Hunger and Homelessness Awareness Week? It is a time for everyone to raise awareness about the crisis of hunger and homelessness in our community and come together to propose solutions that will lead to improved quality of life for those who are experiencing severe poverty.
Homelessness is a major challenge facing San Francisco.  Approximately 6,400 people are experiencing homelessness in our community, which is shamefully high for one of the wealthiest cities in the US.  This is the season of warm fires, big feasts, and family celebrations, but this week we reflect on what life would be like if poverty prevented us from having these experiences. What if there wasn't a home to come together in or food to share?
Project Homeless Connect offers all in the Bay Area the opportunity to be part of the solution.  During this Hunger and Homelessness Awareness Week, we encourage you all to think about how you can help change the situation for those experiencing poverty in your community.  Here are just a few ways you can help:
Educate yourself and your family about the realities of homelessness.
Volunteer at Project Homeless Connect or another local service agency.
Collect essential goods.  Project Homeless Connect always needs socks, warm jackets, and hygiene items for participants.  Contact Elysse Lane to donate.
Help an individual experiencing homelessness achieve their goals through HandUp.
Follow Project Homeless Connect on Facebook and Twitter and stay tuned for our daily need to help on a regular basis.
Vote to support affordable housing initiatives in your community.
This thanksgiving let us not just be thankful for all that we have, but also for what we are doing together to end the poverty that pushes families, veterans, young and old to a life on the street. Happy Thanksgiving!