Thank you for your interest in volunteering with Project Homeless Connect!
As part of our COVID-19 Preparedness Plan, we have placed our Volunteer Program temporarily on hold to adhere to SFDPH health requirements.  We are dedicated to continuing to build compassion and connections in San Francisco. We are working hard to bring new Volunteer Opportunities to the community that support our Mission and prioritize the health of our Participants, Staff, Volunteers.
For the latest updates, please Subscribe to our monthly E-Newsletter.
The best way to learn more about Project Homeless Connect, our Volunteer Opportunities, and receive training for specific roles is to attend a monthly PHC Community Orientations. Orientations are every 4th Wednesday of the month from 6pm-8pm. RSVP is required as space is limited.
Individual Volunteer Opportunities
Hospitality Volunteers
Hospitality Volunteers help to create a warm and welcoming environment for our Every Day Connect Participants and support our administrative processes behind the scenes. Hospitality volunteers help to greet our Participants during our Drop In days and help to amplify our impact in the community.
You can learn more by visiting the Hospitality Job Description HERE. To become a Hospitality Volunteer, you must first attend a Volunteer Orientation. Please register for one of our Volunteer Orientations. Once you have attended an Orientation, you will receive further information on getting advance training to become a Hospitality Volunteer!
Administrative/Office Volunteers
Our Office Volunteers help support our administrative processes behind the scenes. This includes data input, support with upcoming events, mail sorting, and other office/in house related needs. To become an Office Volunteer, you must first attend a Volunteer Orientation. Please register for one of our Volunteer Orientations.
Outreach Walk Volunteers
Project Homeless Connect hosts Outreach Walks throughout the neighborhoods to raise awareness about homeless services, distribute information about our programs, and engage with our neighbors experiencing homelessness. This is a great opportunity to connect directly with the individuals most in need of our services.
We begin the day at our office where we get to know each other and the issue through a training providing context, outreach best practices and a safe place for questions. We then hand out socks, hygiene kits and snacks in pairs, all the while connecting people with vital information about the services our community offers and circling up regularly!
We offer this opportunity to individuals and small groups (of 6 or less people) every First Tuesday from 9:00AM to 12:00PM. Sign-up here!
Community Day of Service: General Volunteers
At a Community Day of Service, an individual experiencing homelessness or at risk of becoming homeless is able to receive assistance from more than 100 providers under the same roof. This "one stop shop" model provides many services that could not otherwise be accessed by a person experiencing homelessness. We have a variety of volunteer needs at our events. From Check-in to Cafe hospitality and Participant Escort, you will be a vital part of serving over a thousand individuals experiencing homelessness in one day! For safety reasons, everyone must register ahead of time.
You may sign up for available volunteer opportunities supporting the day by creating a profile and selecting a shift/role HERE. (Please note that we post roles 6 weeks in advance of the next scheduled event). Role-wise, we depend upon everyone's flexibility the day of to make the day as impactful as possible.
Internships
Many of our programs have Intern Opportunities, which help us with our Development, Event Planning, Community Day of Service logistics, and more! To become an intern or learn more about the opportunities, please register for one of our Volunteer Orientations.
Following an orientation, you can reach out over email to our Senior Logistics Coordinator to set up a phone screening.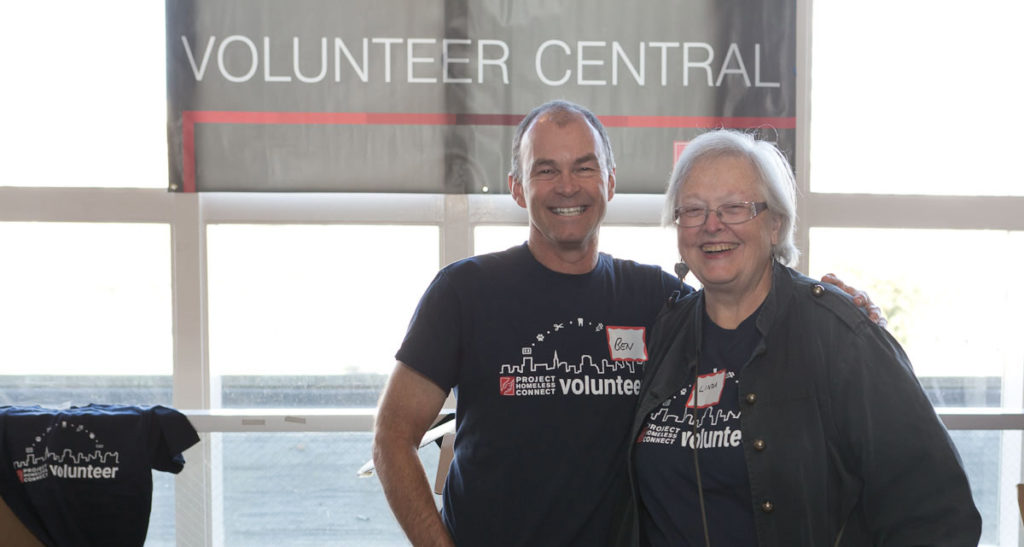 You can learn about one time or unique opportunities by signing up to receive updates through our newsletter here.
If you have any questions, don't hesitate to contact us by emailing volunteer@projecthomelessconnect.org