Thank you for your interest in volunteering with Project Homeless Connect! See the list below for ways to get involved as an individual. It is also helpful to create a profile on our Volunteer Portal. You will be able to see available roles for our next event when they are posted, and receive updates on volunteer opportunities.
All of our volunteer opportunities are currently located within San Francisco.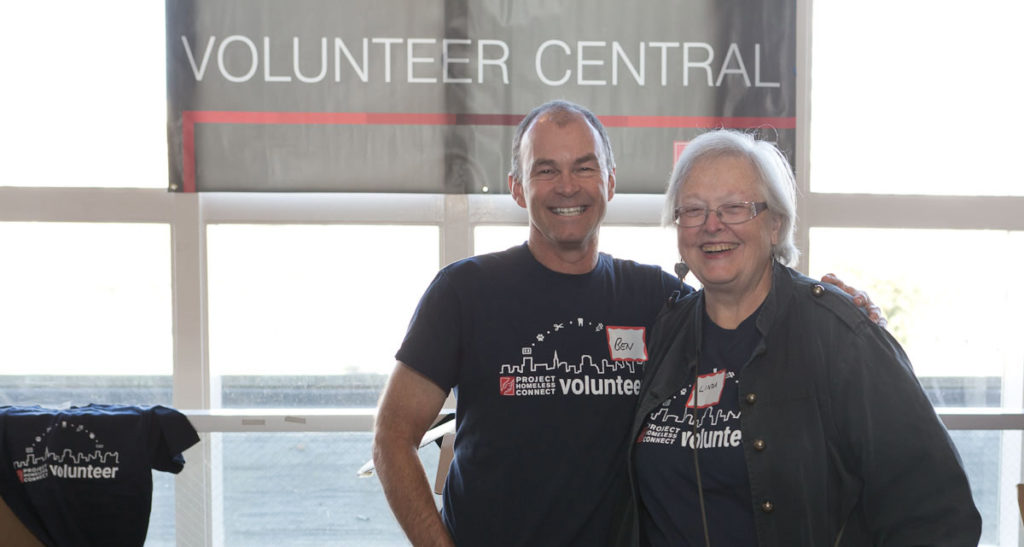 If you are part of a company, organization, or community group you can join forces for a great team-building opportunity with PHC. From Outreach Walks directly connecting to our neighbors experiencing homelessness, giving out info and hygiene items/snacks, to volunteering together at our Community Day of Service events there are many opportunities to organize with your community by volunteering for PHC. See our Volunteer Group page for ways to get your group involved.
We may have opportunities through our EDC program. Whether managing sign-in for a Shelter Connect event, providing extra in-office support for our resource specialists, or answering our Resource Line, our volunteers help PHC run efficiently. Check our Office Volunteers page for any open roles, or inquire at Volunteer@projecthomelessconnect.org
What to wear: Most volunteer positions involve standing and/or walking, so be sure to dress comfortably. All new volunteers will be given a volunteer t-shirt at check-in.

What to bring: Please bring a smile and an open mind. As our volunteer needs change through the day you might be reassigned. Also, if you are able, we will be asking for a donation of $5 to offset the cost of our volunteer shirts and lunches.
What NOT to bring: Please leave all valuables at home. We DO NOT have a coat check or secure place for you to leave items. If you have a fanny-pack, now might be the perfect time to break it out!   

Volunteer Entrance: The Volunteer Entrance is located on Grove Street between Polk & Larkin (99 Grove) and will be clearly marked. The volunteer entrance opens at 8:00 AM.
Checking-In: All volunteers will need to check-in prior to the start of their shift. Please check in upstairs at Volunteer Central unless you are a Medical or DMV/Legal volunteer, in which case check in at your area.
Transportation and Parking: The Muni underground, BART, and many above ground Muni busses/trains come within a few blocks of the Bill Graham Civic Auditorium. We DO NOT have parking reserved for volunteers or providers. We highly recommend taking public transit if possible. Street parking is very limited. The closest parking garage is under Civic Center Plaza. The entrance is on McAllister between Polk & Larkin.