Our In-Kind donation program restores dignity and gives comfort to those experiencing homelessness. There are many ways to get involved: host a drive at your workplace or school, buy someone a pair of boots for a new a job, or give a gift of new white socks — the possibilities are endless!  Learn more about how you can join our  generous community of supporters below or contact us at inkinddonations@projecthomelessconnect.org.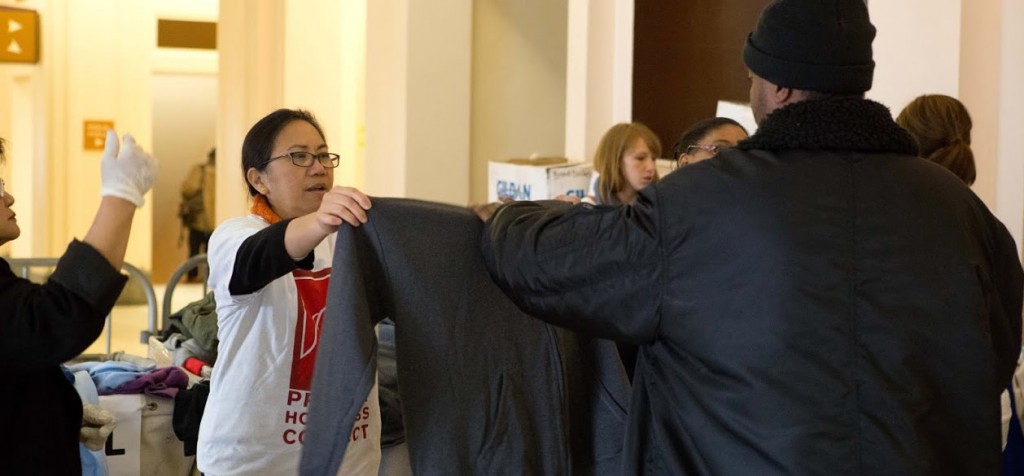 Our Twitter page is constantly up to date with participants' pressing needs!
No result could be fetched.
Socks
   New, unused white adult size crew socks
   Colored socks, used socks, or children's socks
Sleeping Bags
   New or gently used and clean fully functioning sleeping bags
   Children's sleeping bags
Hygiene Items
  New, unused and unopened travels size tolietry items. Including body wash, shampoo, conditioner, body lotion, sunblock, deodorant
  Anything open or used or over scented; mouthwash
Backpacks
  New or gently used fully functioning backpacks. Larger sizes or camping backpacks needed as well
  Children's backpacks, anything in need or repair
Electronics
  New or gently used: phone chargers; micro-USB preferred
  Large and heavy electronics, anything incomplete or in need of repair
Household
  New or gently used: electric skillets, toasters, microwaves, plates, eating utensils, small pans
  Anything incomplete or in need of repair
Clothing
On an as-needed basis. Please call first to confirm need
Furniture
Items like sofas, dining room tables, mattresses, bedroom sets, couches, large chairs
Large Appliances
Items like stoves and refrigerators