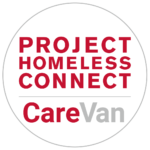 On May 23, Project Homeless Connect launched the first mobile CareVan!
Many people experiencing homelessness, due to limited mobility or lack of means for transportation, are unable to access much needed services that could help them with their care or to reach goals. The CareVan will allow PHC to bring services to them directly!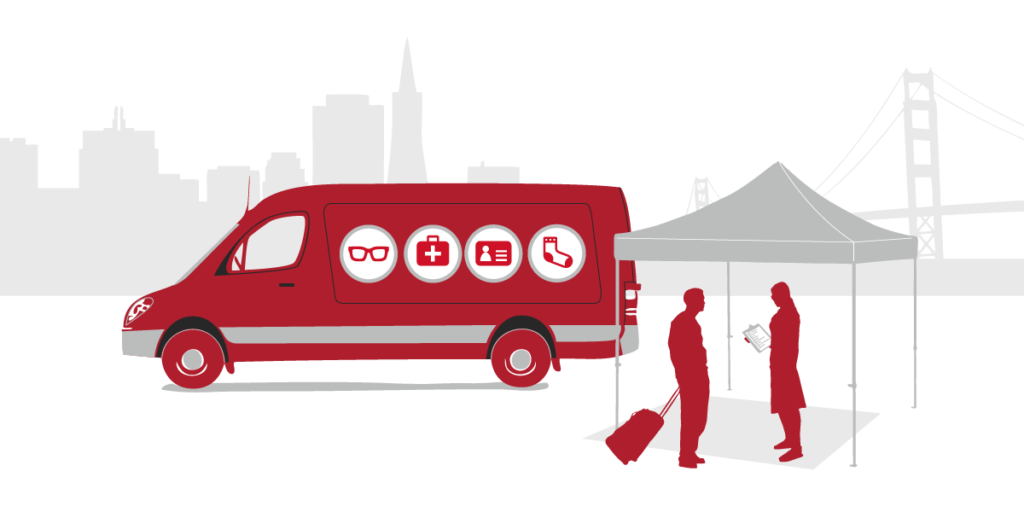 Starting in early 2017, the new PHC CareVan – a five-passenger van with supplies for a pop-up service event – will provide valuable resources and support for people experiencing homelessness across San Francisco. This project is the next step for PHC to connect the most vulnerable members of our community to vital services, wherever they may be.
The CareVan will cost $160,000 to build out and operate for three years. Thanks to everyone who donated and supported this campaign so far. With your help we will be bringing services to your neighbors experiencing homelessness, wherever they may be. We couldn't do it without you!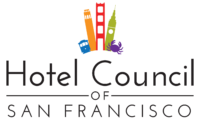 Anonymous
Blair Barret
Beck's Motor Lodge
Blue Shield of California
David & Kathy Brunts
Chancellor Hotel
Dolby Laboratories
Judi Elman & Gordon Harris
Enterprise
Fairmont
Todd Giese
Handlery Union Square Hotel
Susan & Richard Hare Family Foundation
Highgate Hotels
Hilton San Francisco Union Square
Ideal Restorations
Intercontinental
Koret Foundation
Jeff Kositsky
Kwock Family Foundation
Dr. Judy Nguyen & Dan Thunnissen
Parc 55 – A Hilton Hotel
Pier 2620
Rebecca Rolfe
Doniece Sandoval
Denise & Dave Smith
Starwood Hotels of San Francisco
Beverly Steiner
Sami Tahbazof
Gene Tate
The Ritz-Carlton
Robert Veeneman
Paula Williams
Rudy Abarca
Keren Abra
Janfred Agarao
Chio Aguirre
Katherine Akudovich
Juli Alderson
Elizabeth Algire
Claudette Allison
Sandra Anderson
Maggie Andrews
Argonaut Hotel
Tomas Arroyo
Axiom Hotel
Michael Baier
Brett Bailey
Tawny Bailey
Julia Banks
Foo Bar
Joan Bard
Ashlee Barton
Bay Area Hyatt Hotels
Bay Area Linen & Valet
Alma Beasenburg
Paul Bellamy
Karyn & Charles Bendit
Jim Bess
Niraj Bhavsar
Natsumi Bise
Alan Blackman
Marisa Blank
Julien Bourdeau
Lyle Bradley
Robyn Bradley
Ramin Broumand
Samantha Brown
Emanuel Brueh
Krista Brughelli
Brad Bulger
Peter Burns
Gwendolyn Butler
Brittany Cannon
Roxana Carbajal
Linda Cardiff
Jaclyn Carpenter
Michelle Carpenter
Nicole Carpenter
Mary Carroll-Ambrose
Tiffany Carter
Monica Cereda
Jeannette Chafe
Laura Chiavola
David Chin
Jadey Chin
Yong Chin
Lourdes Chow
Elaine Clancy
Anna-Lynne Clemente
CLIFT
Palmira N. Clima
Lynne Cohen
Jp Collett
Antonio Corona
Courtyard San Francisco Downtown
Courtyard San Francisco Union Square
Courtyard SF Downtown
Cova Hotel
Donald Cowan
Garry Cox
Brian Crosby
Vincent Dagron
Dianne Dahlberg
Shirley Davalos
Jonathan Delgado
Julie Demasi
Claudine Deshaies
Jesus Diaz
Maria Diaz
Anna Dibble
Angela Doan
N Drysdale
Liying Du
Elaine Sodano Dull
Susan Efendi
Gena Egelston
Georgie Faine
Chuck Fanning
Melissa Farrar
Emma Ferguson
Christigale Fernandez
Tetiana Feshchun
Joane Filler-Varty
Ruth Finkelstein
Meghan Fischer
Mariott Fisherman's
Judith Fisicaro
William Fong
Victoria Fowlis-Porchia
Brad Freeman
Alexandra Fried
Francia Friendlich
Jamie Furman
Anne Gannon
Giselle Gaona
Cristina Garcia
Nicholas Garcia
Michele Gaul
Hans Gelfand
Kaila Genovese
Gail Gerber
Romeena Ghaziani
Tomoko Gleason
Emily Glick
Ann Goggins
Jenna Gottlieb
Neoma Gottlieb
Charles Gough
Gregory Graniss
Gordon Gray
Sherrie Groshong
Joselin Guardado
Linda Guy
Elayne Hada-Souza
Terri Hanagan
Katie Hara
Jennifer Hardy
David Hay
Hannah Herback
Jon Herr
Highgate Hotels
Trisha Hildreth
Cynthia Hill
Jason Hirschton
Harry William Hobbs
Curtis Hodge
Michelle Hoff
Holiday Inns at Fisherman's Wharf
Wendy Hom
William Hooker
Hotel Abri & Puccini and Pinetti Restaurant + Bar
Hotel Drisco
Hotel Nikko
Lilia Hsu
Cynthia Westbrook Hu
Elaine Huang
Roger Huldi
hunstman Architectural
Mark Hyde
Eric Hylkema
Victoria Idzal
David Iwamoto
Brittany Jacquot
Rachel Jang
Caroline Jaquiss
Michelle Jasen
Sonya Jauregui
Geary Johnson
Joie d Vivre Hotels
Joyce Jolin
Troy Jones
Madalyn Junio
Alexander Keane
Megan Kelley
Ashley Kenaga
Tina Keramari
Jon Kimball
Kelly King
Peter Koehler
Melinda Young Koutouov
David Krinsky
Madeline Kwan
Luzviminda Lagrimas
Alberto Lamberti
Olga Lara
Leah Laxamana
Michelle Lee
Ralph Lee
Aimee Leidich
Juan Leonis
Denise Lever
Nam Li
Kristina Liang
James Lim
Laura Little
Rebecca Litwin
Yvonne Liu
Marcia Loeffler
Mary Lonergan
Micki Lorelli
Erin Loughlin
Donald Luckenbach
Jessica Lum
Joanne Lung
Emilie Lynch
Ana Macario
Emma MacStay
Maria Mahoney
Tomislav Majic
Sergio Malic
Jim Maloney
Steven Marais
Eva Markiewicz
Brett Markowitz
Marissa Mathews
Robert May
Thomas McCarthy
Jaclyn McClanathan
Tim McDowell
Robert McLoud
Marti Medina
Chad Mendelman
Brian Mendelsohn
Lauren Mitchell
Michelle Moore
Carl Morabito
Stefan Muhle
Justine Mui
Brendan Mullen
John Nelley
Casey Neuburger
Nancy Nielsen
Joe Nievelt
Mildred O'Donnell
Maureen O'Neil
Colleen O'Neill
Chiara Ogan
Omni San Francisco
Stephanie Otter
Donna Ouderkirk
Alyssa Overheul
Eric Overstreet
Othman Ozzie
Candace Palec
Anne Pang
Park Central Hotel San Francisco
Jeffrey Parkinson
Martha Parmentier-Vanaman
Sam Paschel
Neil Patel
Christie Patrick
Terence E. Patterson
Fredy Peccorini
Suk Kuen Perez
James Peters
Jon Petrat
Cindy Phu
Max Pilz
Todd Pope
Kelly Powers
Diane Prentiss
Andrew Presley
Simone Price
Emily Proctor
Laura Pugh
Anthony E. Ramirez
Jessica Ramirez
Yanina Ramirez
Recharge Labs
John Reyes
Brandie Rivera
Marta Rodriguez
Stephen Rogers
Vicki Rosen
Talia Roven
Jennifer Rowe
Rochelle Ryberg
Matthew Salvan
Jack Salvato
Sylvia Samantha
San Francisco Marriott Marquis
Doniece Sandoval
Sheila Santos
Marianne Sarrazin
John Savage
Anna Schaefer
Christopher Schaffer
Christy Seaman
Craig Seymour
April Sheesley
Jacquelyn Shelton
Shyam Shrestha
Joel Shumaker
Shirley Silverstein
Sir Francis Drake Hotel
Al Smyth
Kit Solowy
Dennis Sproviero
Starwood Hotels of San Francisco
Kelley Sternhagen
Amira Strain
Mark Sugarman
William Sutton
Lauren T
Amie Tang
Christina Tang
William Tarran
Emily Teachout
Kristin Thackwell
Michelle Thomas
Cynthia Tlaiye
Paul Tormey
Alex Tourk
Christina Trinh
Wes Tyler
EJ Varela
Steven Vargas
Roland Villarma
Lilian Wagner
Matt Wakefield
Michelle Westrum
David Von Winckler
Anna Wong
Holley Wysong
Maggie Yan
Lauren Yeung
Sue Yuen
Samantha Zeitlin
Byron Zhang
Danyang Zhao
Randy Zupanski